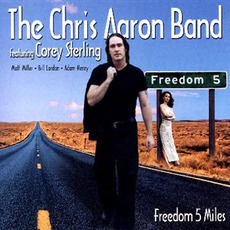 Freedom 5 Miles
Type:

Album

Sampling:

44,1 kHz

Source:

CD

Tracks:

12

Language:

English

Total size:

134.33 Mb

Year:

2005

Total price:

$1.44
#
Title
Price
Bitrate
Duration
Size
Please log in to your account to review this album.
I Agree With Digidave This Whole Album Is Awesome!! I Highly Recommended It As Well. You Won't Regret It.
This is one great Blues album. If you like Kenny Wayne Shepherd or Chris Duarte, or even Stevie Ray Vaughan you'll love this album. Corey Sterling's(Kenny Wayne Shepherd Band)vocals are top notch & the guitar work of Chris Aaron is phenomenal!In my humble opinion, there isn't a bad song on this entire CD. If I had to pick a favorite, it would have to be Sweet Redemption, but that's only if I was forced to choose. This is money well spent people!!