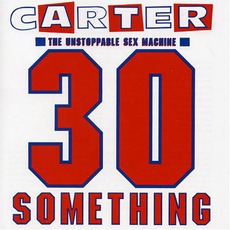 Tracks
Also by Carter The Unstoppable Sex Machine
People who bought this release also bought
This was album number two from the duo of James Robert Morrison and Lesley George Carter (more commonly known at the time as Jim Bob and Fruitbat). The album followed in the vein of their debut 101 Damnations, only they took everything to a much bleaker level. The music, the lyrics and the themes were all much bleaker second time round. The band made both fans and enemies with their music and they certainly weren't ones to sit on the fence or try and be subtle with their messages. They have since gone their own ways, with Jim Bob taking on a solo career and Fruitbat starting his band Abdoujaparov. Both have continued to produce brilliant music, however this album still stands as one of the most energetic and intense releases the two have put their name to.

The album opens with the instrumental Surfin USM that begins with a sample from Red Dwarf's Rimmer before rocking out for a few minutes. This is followed by the moderately bleak Second To Last Will and Testament. Anytime Anyplace Anywhere is a chilling dark tale about drinking problems. The gloomy music sets the atmosperic scene that is topped by Jim Bob's vocal delivery that sees him whispering in parts before building up to a yell in the chorus. Prince In A Pauper's Grave follows in a similar vein again, with pinpoint delievery that brings out the emotion to great effect. Side one closes with the satirical Shoppers Paradise.

Side two opens with the onslaught of anger in Billy's Smart Circus. Bloodsport For All comes next and is without a doubt an classic piece of music. It is a bitter attack on racism within the British army that caused such a stir it was banned by various radio stations during the Gulf War. Over two decades later the song still holds relevance and possesses a lot of power. It also acted as something of a preview of what was to come in Fruitbat's follow up band Abdoujaparov, as this was one of the few Carter songs to which he lent his voice.

Sealed with a Glasgow kiss is an energetic punkrock song that deals with domestic violence. Carter USM continue their savage attack on wars in Say it with Flowers. The tempo of the album slows down from here with the depressing ballad Falling on a Bruise. The album then closes with the even slower piece The Final Comedown, which acts as something of a warm down to the intense and energetic album with the lyrics sounding like the summary and conclusion.

This was an amazing record that shows heavy atmosphere and emotion. Over the 11 tracks Jim Bob and Fruitbat launch savage attacks on racism, alcoholism and violence. They are very direct and effective in their delivery leaving nobody wondering where they stand. In many places they tend to employ their British terminology (for example the Glassgow kiss, otherwise known as a head butt). While some listeners might not understand such terms this is more than overshadowed by the passion in the voice of Jim Bob. It might not be the best album to play when you're in a cheerful mood, nor would it be a great soundtrack to your 30th birthday, however 30 Something is an album that will speak out clearly and effectivly for years to come.