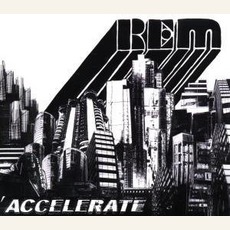 Tracks
People who bought this release also bought
Back to the roots: REM are there again fully. Michael Stipe and his men show that the creative break have been good for them very much. Impartially they let it crash, quite classically like rock. And one may hardly believe it, but "Accelerate" is already the 14th album REMs.

What they have on it and how laxly they sound, there becomes clear already with the first single extraction "Supernatural Superserious". REM, how one knows them and wants to hear. Without compromises, but directly in the ear with good "alternative" Songwriting. The tape from Athens, Georgia, took up "Accelerate" in the last spring in Dublin, Vancouver and her hometown. Producer: Jacknife the lee which one knows, among the rest, from his "Grammy excellent" work with tape like U2 or Bloc party. The best conditions to create another REM number 1 album.

The Chart point is already booked absolutely. The REM fans had to wait long and will not miss the opportunity to get one of the "Accelerate" pieces of silver or to buy the album in one of the music main entrances. As a special chief attraction there was already before the official publication a countdown which offered daily a so-called high definition Video-Snippet which could be worked on by every user arbitrarily. Now must not be waited any more. With earthy fresh and dynamic songs and nice melodies one can celebrate her small comeback now extensively.