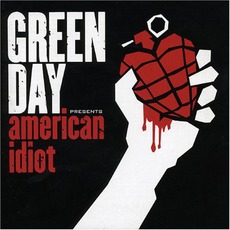 Tracks
People who bought this release also bought
Listen closely and you can hear the story of Jesus of Surburbia, the troubled teen who ran away from home to try and find himself. With this album, Green Day completely changed the name of their game. Gone are the days of three young men who toured around in a bookmobile (true fact), wrote songs completely about marijuana (Brain Stew, for example), and who changed their hair color whenever they felt like it. With this album, Green Day has demonstrated to the world that they are capable of not only producing songs with a garage-band, homemade sound, but is fully capable of making a highly-polished, extremely professional sounding music. Billie Joe's vocals are spot on, and although they are less gravelly and throaty, have not lost that nasal quality that all fans love. Billie Joe and Mike Dirnt's harmonies are executed in a tasteful, but earnest manner. The title song, American Idiot, ushers in the album with a bang and leaves you hooked, while the closing song, Whatsername, leaves you thirsting for more, wondering whatever happened to Jesus of Surburbia and good ol' Whatsername. The two main tracks on the album, Jesus of Surburbia, and Homecoming, are rock operas in themselves, and both of them have multiple parts. While the length may intimidate you (9:08 and 9:18, respectively), don't shy away from listening to them. Jesus of Surburbia tells of the beginning of the story, when Jesus of Surburbia runs away from home first. Homecoming lets the listener know exactly what happens to St. Jimmy (Jesus of Surburbia's alter ego), and how he finally managed to come home. And although the listener will know what happened to Jesus of Surburbia, they will never know what happens to Whatsername, as Green Day cleverly leaves a bit of a cliffhanger at the end of the album (some say that 21st Century Breakdown, another rock opera following the lives of Christian and Gloria, is a continuation of Whatsername's story, but who knows?)

Although Green Day is not the first one to experiment with the rock opera genre, they are definetely one of the better rock operas out on the market. If you choose to buy it, you will never regret your decision.
I only know two songs on this album (Boulevard of Broken Dreams and Wake Me Up When September Ends) but I love them and everyone I know who likes this genre also likes this album. It's old but it never GETS old, if that maked sense. I love Green Day and this album was sort of what got them noticed. I would recommend it.
This album ushered in an entirely new era for Green Day and the music world at large. On the heels of a commercial slump, the guys found themselves catapulted to world-wide phenomenon...and rightfully so. They tackle the big questions, from everything to politics to the meaning of a single existence, cranking out big-sounding stadium rock that sounds as at home in the iPod of a dissatisfied teenager in suburban America as it does blasting to stadiums packed with tens of thousands of people. With this album, Green Day has arrived.