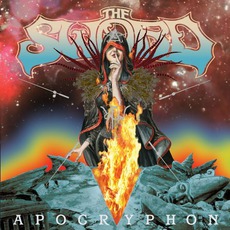 Tracks
People who bought this release also bought
I have been listening to The Sword for a few years and have loved everything they have released and Apocryphon is no different. I will say that is probably my least favorite album of the four they have so far released, but that speaks more about the high quality of their previous records than it does about anything lacking on this one.

Apocryphon sees The Sword favor a more straightforward hard rock sound than the vintage heavy metal of Age of Winters and Gods of the Earth. Warp Riders was a more rock and roll affair that its predecessors and Apocryhon takes another step in the same direction. It is a slower record than anything they have put out prior, but JD Cronise shows he still has the ability to write interesting and memorable songs and avoid releasing the same record over and over. The guitar tone remains old-school heavy, and the newly added synth elements blend surprisingly well (check out the title track for an example.)

I was sad to see their original drummer leave after Warp Riders, but am happy to say that his replacement (Jimmy Vela) has similar vintage sensibilities and doesn't rely on cymbal crashes quite as much as Wingo did. Check out Arcane Montane's slick drum breakdown at about the 2:13 mark for an example.

Not many people listen to rock or metal for the lyrics, but that is one of the strongest aspects of Apocryphon. JD Cronise has said he wants to be the "Robert E. Howard of rock and roll" and this record's tales of ancient deities, sea voyages, enlightenment, and of course, battles entertain throughout while fulfilling that goal. Even the short track Execrator stands out as the classiest version of the "F You" song I've ever encountered.

The live tracks on the deluxe edition aren't anything to write home about; the instruments sound decent live but the vocals are markedly weaker than the studio versions. The included ZZ Top cover is a nice touch however.

If you are a fan of The Sword you probably already have this record, as you should. Apocryphon makes an excellent starting point for someone new to the band and a tasty new dish for old fans.