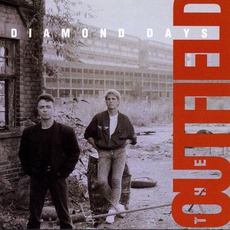 Tracks
People who bought this release also bought
This was the fourth album from the British band The Outfield, and the first recorded without drummer Alan Jackman. So the Outfield was a two-man unit for this one, plus session drummer Simon Dawson.

But that didn't hurt the music all that much. Tony Lewis and John Spinks still provided their trademarked sound, excellent harmonies and power pop sound. The album cracked the Billboard 100 album chart, and the single "For You" hit number 21, their biggest hit in years.

Though it wasn't a huge chart performer, the album was very much underrated. The band has a unique sound that straddles the pop/rock line. Nothing here is as catchy or heavily into rock territory as their biggest hit, "Your Love", but there are some great album tracks. "For You", obviously a love song, is built on their classic harmonies, as well as their unique, and always excellent production. The best guitars of the album may be in the outro here.

Another good one is "Burning Blue" again a love song, but it feels at once sorrowful and deep, and tongue in cheek. "Take It All" began something of a trend for them, one that would explode in their next album, that of songs for athletics. Not necessarily in lyrics, but in feel. This song popped up here and there in snippets during sports broadcasts, and would lead to several of their songs from the next album being included in higher profile sporting event shows, including the Olympics. "Take It All" was the second single, but it did not chart.

This album is filled with songs that might not be great as singles, but come together well as a collection of album tracks. "Raintown Boys" is a great example of this, it's a great conceptual song beyond the normal love song. "Unrespectable", "Eye to Eye" and "One Night In Heaven" are borderline singles, very melodic. "John Lennon", a tribute to the late musician, was something of a niche hit, receiving some radio plays, but never being released as a single.

Overall, if you are a fan of The Outfield, you will enjoy this album. This is by no means a greatest hits collection, but it is a great background kind of album. Definitely get "For You", and sample a couple of the other tracks I mentioned. If you don't like them, don't bother, but if you like what you hear, you'll get some enjoyment out of the whole package.