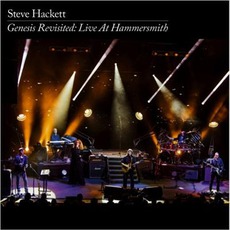 Tracks
People who bought this release also bought
Steve Hackett, former guitarist for Genesis, has embraced the contributions he has made to his former band, and to progressive rock in general. On the heels of the successful "Genesis Revisited II" album, Hackett took his show on the road with amazing results.

Steve Hackett joined Genesis about the same time as Phil Collins, after the "Trespass" album. He specialized in creating atmospheres with the guitar, sometimes soft and lilting ("Entangled"), sometimes driving ("Firth of Fifth"). He puts his chops clearly on display in this 3-disc concert recording, absolutely nailing many of the classics that help make Genesis one of the cornerstones of the progressive rock genre. Genesis was famous for lengthy songs that could change tones dramatically..."Supper's Ready" and "The Musical Box" are the two obvious examples, and two of the most famous products of the 70's prog-rock movement.

Hackett has gathered a talented group of musicians who ably fill in the roles of his former bandmates. They are very well rehearsed and tight, another staple of Genesis. Hackett has fully embraced the fans of classic Genesis...these are the songs you want, played in the way you remember. He never strays far from the way the material was originally performed. Over the course of the show, the listener will never question whether or not the music they are listening to is Genesis. In fact, he makes only one nod to his solo work, "Shadow of the Hierophant", which he wrote with Mike Rutherford. Several selections from the seminal album "The Lamb Lies Down on Broadway" are included, including "The Lamia", "Broadway Melody of 1974", "Chamber of 32 Doors" and "Fly on a Windshield". First time listeners may not grasp the full meaning of the songs out of the context of the original concept, but these selections were made for the gorgeous guitar work and vocals; longtime fans will be hungry for full performance of The Lamb.

If you are a fan of these songs, you will most certainly enjoy this album. The performances near-perfect, the arrangements are faithful, and the song selections are exactly what you would want from Hackett-era Genesis. Newer fans of Genesis will find this to be a great jumping-on point. Take a listen, then go back and discover the source material. These are not cover performances, this is the original guitarist rediscovering some of the greatest progressive rock songs in the way they were meant to be heard.