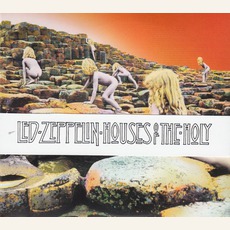 Tracks
People who bought this release also bought
I have come to appreciate Houses of the Holy as a mature experience. I don't mean this as a self-aggrandising statement, where I envisage myself as an expert audiophile or as a connoisseur of fine music, not at all. It's just that this album has really grown on me over time, this, current, deluxe edition once again piquing my interest and enticing me to give it another go.

When I listened to it for the first time in the 90s (of the 20th century, thank you very much!), I simply didn't get it. I got Led Zeppelin IV, and the previous forays into proto-metal (don't tell that to Jimmy Page – he does not agree with the metal label!) but Houses of the Holy? What were the band trying to tell me, as a listener? What was the album about? You got the mystical, Nordic mythology moments such as No Quarter with its John Paul Jones-led keyboard orchestration, but how did you reconcile this with the jovial, careless, almost poppy D'Yer Mak'er? By the way, there isn't a Zep-fan out there who is unaware of this, but this last one, with its Caribbean flavour is inspired by a (bad) joke which goes something like this:

John: My wife didn't want to go on the Caribbean cruise I bought for us.
Sam: Oh, really? D'Yer Mak'er? (which can read as both Jamaica or, did you make her?)

Har-har. This does illustrate the tongue-in-cheek moments we encounter here and this kind of jocular mood. Not dissimilar is the fusion-rock inspired The Crunge, which has Plant looking for the 'confounded bridge', perhaps the only 'filler' track which, although well-performed, is hard to reconcile with the glorious and anthemic Over the Hills and Far Away, which I regard as this album's Stairway to Heaven. The acoustic intro, the build into a crescendo of riffs, powerful drumming and soaring vocals, the narrative which starts with a girl, only to move to more existential themes: "Many times I've lied, and many times I've listened/Many times I've wondered how much there is to know…". I'd encourage you to also check-out the instrumental version on the bonus CD, which has 15 seconds of spontaneous acoustic guitar, where Page continues improvising on the opening riff. Magic!

The Rain Song, a hauntingly beautiful reflection on years gone by (and reminiscent of Ten Years Gone from Physical Graffiti) also finds the band in reflective mood, very different from the fanfare-like celebration of life and happiness in The Song Remains the Same, which revisits the theme of knowledge and yearning for understanding.

This is what made me finally 'get' it. This is an album about self-awareness. It is about trying out different approaches on the road to it, which although varied, are incredibly coherent together because they ultimately centre on a band whose identity is changing. No longer the powerhouse force of nature of Led Zeppelin I, the Zep boys had matured to men and were exploring their full range of emotions, through their increased powers of self-expression. The hard rock canon was now too narrow to hold them in place, so they broke it – moving into progressive rock, fusion, even reggae. For all this experimentation, Houses of the Holy is not a trial-and-error album but a statement of intent. Maybe even a challenge to the listener, 'you think you know us? Think again!