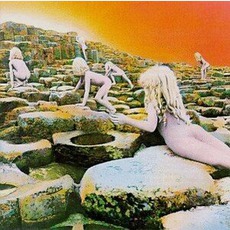 Tracks
People who bought this release also bought
Coming off of their biggest album ever in their untitled fourth album, Led Zeppelin found themselves in a similar situation to the one that they had been after truly hitting big in 1969 with the first two albums. Should they give their fans more of the same, or experiment with their winning formula like on 'Led Zeppelin III'? Of course, the band opted for the latter. The result was quite possibly their greatest album and certainly their most diverse, (even more so than the sprawling follow up, the double album 'Physical Graffiti', which is ironic since this is just barely their shortest album). Few bands other than Zeppelin could have, let alone truly have pulled something of this magnitude off and kept their integrity intact, so how did they do it? Like the best experimental albums, they vastly expanded their musical horizons while at the same time sticking just close enough to their roots. Zeppelin's first four albums consisted of blues rock with some occasional folk excursions. On this album, every song has something different to offer in terms of style and mood. Impressively, the album holds together incredibly well; for all of its disparate themes, it feels unified in its diversity.

"The Song Remains the Same" is a surging, optimistic opener. Originally intended as an intro to the following track, it evolved into one of the band's most enduring numbers, even being used as the title track of the band's concert film of the subsequent tour. Jimmy Page pulls off some of his most intricate guitar work, and Robert Plant's vocals are slightly sped up, giving them an interesting feel. Inspired by a suggestion made by none other than George Harrison, "The Rain Song" is Led Zeppelin's first ballad that isn't folk-based and is probably the most sublime piece in their entire catalogue. Jimmy Page's layered guitar work is as delicate as the song's title suggests, and John Paul Jones's beautiful orchestral arrangement on mellotron greatly affects the song's overall atmosphere and charm. Released as the first single from the album, "Over the Hills and Far Away" sounds the most like Zeppelin of old, beginning with a folk section before morphing into a hard-driving rock tune. It remains one of the band's most popular songs. "The Crunge" is a James Brown spoof that works much better than one might imagine, even though it is the closest thing to filler on this album. "Dancing Days" is a bit more "normal"-sounding, but it too adds to the mix with its extensive use of organ. Perhaps the album's biggest departure, "D'yer Mak'er" is in fact a reggae song. As silly as it may be, it is as catchy as most anything else present here. "No Quarter" is an epic that really shows off Jones's and John Bonham's interplay in the rhythm section. Plant's vocals are changed during the verses to sound as if they're underwater, and the lyrics here return to his fantasy themes of albums past. "The Ocean" begins with a humorous count-off from Bonham and although it initially sounds like a more typical Zeppelin track, it abruptly ends with a doo-wop jam section, closing out the album jovially.

Led Zeppelin truly hit their creative peak on 'Houses of the Holy'. In light of all of the unorthodox approaches, it may not be their most definitive album, but considering how well that these approaches work, it shows as a whole just how high of an artistic zenith that could be attained by (and only by) the likes of Zeppelin. An indispensable album for all rock fans.