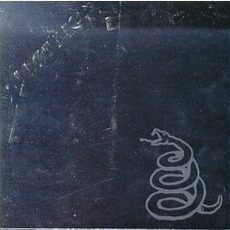 Tracks
People who bought this release also bought
Metallica in their self-titled album tried to open up their music to a wider range of listeners by sharpening, simplifying their sound and slowing the tempo down a bit. It brought Metallica to commercial success but it also brought creative decline later on. I loved the album and the mix of slow ballads such as "The Unforgiven", and the hard Metallica that we've come to know like "Wherever I May Roam". Key tracks include "Enter Sandman", "Sad but True", "The Unforgiven", "Wherever I May Roam", and "Nothing Else Matters".
The album Metallica by Metallica. Great album. I love the lyrics to most of these songs. The album Metallica is Metallicas Fifth Studio album. This album contains songs that are some of Metallicas best known songs and songs that were also there singles which are "Enter Sandman","The Unforgiven","Nothing Else Matters", "Wherever I May Roam" & Last,"Sad But True".Those are some of the best known Metallica songs I found out based on research.I'm not going to let this review get to huge with facts based on the album so I will leave it at that. I like to leave a few "fun facts" I guess you can say on every review of albums that I post on here. Anyways,This is a great album. Love it Four Stars from me!
Wasn't much of a Metallica fan before but I am now after I heard this album.This is a great album. I really like it. This get's 5 stars from me.
I am not much of a metal fan, but this is a must have. My brother is a drummer and got me to listen to this album and I actually fell in love with it. The songs really show the talent of the band.
This is definitely my favorite Metallica album by far. The music is great for many reasons, and the songs are memorable. I've had the cd for years, and still enjoy the music.
This album, "Black Album", or "Metallica", is the most talked about, and has a great, but far overplayed song "Enter Sandman" . This album is purely simple, but purely epic.
Very great album, Metallica is my inspiration to music, Enter Sandman is there most commonly referred to and most heard song. Everyone who has listened to Metallica has to have heard this album to be a fan.
For any metal fan, this is the essential album to buy. It is Metallica at there best. James Hetfield punches out the songs and as the title of a song says 'nothing else matters'