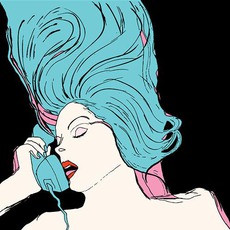 Tracks
People who bought this release also bought
Chromatics are one of many projects curated by Johnny Jewel, Glass Candy, Desire and Symmetry being the other three (among others I'm sure). A pervading theme surrounding his work is nostalgia mixed in with a film soundtrack atmosphere; in this sense Night Drive could be considered a "concept" album.

The palette is a darker one; there's an Italo Disco influence throughout but it's not bright and shiny as the genre is often known to be (the deep, dark Depeche synth on "Mask" in particular) some Cure-like guitar licks (many of which are minor key such as on the title track "Night Drive"), and lyrically the entire album is very introspective and "in its own head" with many of the lyrics referring to unrequited or lost love, as well as existential themes. This lends itself to a particularly isolated atmosphere very carefully crafted to be listened to on well... a night drive.

Such atmosphere-based crafting can hit or miss. But I believe this one hits, possibly due in part to "Tick of the Clock"'s use in the soundtrack to the film "Drive" (especially since it plays during a particularly tense moment) - clocking (no pun intended) in at a staggering 15 minutes in its' unedited LP version here. Surprisingly it works; the groove is just tense, effortless, and cool enough to be played on a loop with little variation and is a huge success for pulling it off for as long as it does. Like any great art, it gets away with it.

Perhaps the outstanding quality that Night Drive has for it is a solid identity. It knows the aesthetic it wants to project and plays it out elegantly. From the feather-light but assured vocals (which may appear to be too "indie" but here are confident and dreamy), the tasteful arrangements (Little moments like the horn/sax towards the end of "Circled Sun" are just the icing on the cake for some songs) Well-played melodies (Once again an Indie distinction - I can actually remember and want to hum the melodies here as opposed to some indie releases that weigh in far too much on the "atmosphere" which is more just an excuse to be lazy with the melodies, ruining the experience and atmosphere in the process quite ironically), and a well-groomed, vintage aesthetic.

Disco angst at its' best.