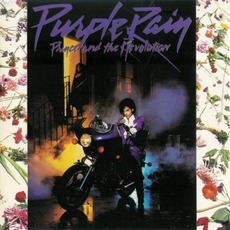 Tracks
Also by Prince & The Revolution
People who bought this release also bought
Prince was arguably at the top of his game while he was still with the Revolution and popped out this giant of an album. Purple Rain straddles the line between commercialism and artistic integrity perfectly; Pop perfection and bizarro mastery. The way Prince manipulates his voice here is also amazing: various shrieks, cries, vocal gymnastics, improvised bits here and there are just the glaze on top of the pop cake (POP CAKE!).

The mixture of genre influence here is complex enough to make it unique for its' time. There's some older 60's influences (I think of more "Songwriter" oriented musicians over genre, such as The Beatles), Disco vibes ("I Would Die 4 U" in particular), Funk vocal stylings (Prince pulls some James Brown stuff here, especially towards the end of "When Doves Cry"), love for guitar solos (I'm sure there's a whole list of influences there) and Glam aesthetic mixed in with a punk attitude. It's undeniably what made Prince "Prince"; He didn't limit himself strictly to one thing, but took all of his inspirations and mixed them together into a melting pot of glittery, goopy, stick-to-your-teeth sugar-pop amazingness.

Overall, it's a classic with its' own atmosphere. And everyone should at least once in their life listen to the title track on a warm Summer night while driving with the windows rolled down.