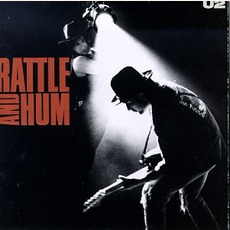 Tracks
People who bought this release also bought
My first love of U2 was Pride (In the name of Love), I first listened on the best of 80-90, so it took me a while before I got Rattle and Hum, and boy has it grown on me! So many good songs; Desire, All along the watchtower, Bullet the blue sky (absolutely rocks), All I want is you, When love comes to town (special guest performer on this one), Silver and Gold. This album in my opinion is U2's best.
One of the seminal albums of the eighties, this might be U2's best. It's a combination of studio and live tracks; original material and covers. It's at the same time all over the place, but a unified piece. Such a divergence of music often doesn't work, but U2 sets a standard here. This was recorded for a film, hence the many tributes to their musical heroes and legends.

They start off with guns blazing, envoking The Beatles for a rocking version of Helter Skelter, a song Charles Manson claimed as the title for a coming race war. Bono makes mention of this and states, "we're stealing it back". And they sure do, turning in an iconic cover of an already iconic song.

Another cover they turn in is a version of Bob Dylan's "All Along the Watchtower". This one has been covered literally dozens of times, but they add their own flair to the classic tune, somewhat bringing to mind Jimi Hendrix's version. "Angel of Harlem" was written as a tribute to Billie Holiday, and makes reference to various New York landmarks. It uses a horn section to give it a bit of a jazz vibe.

Their own writing gets it's due as well. "Desire" was the lead single, and it hit number three on the Billboard Hot 100, but also was number one on the Modern and Mainstream Rock charts, as well as in many other countries. It also won the Grammy for Best Rock Performance by a Duo or Group. Many consider this the song that made them into mega-stars. Awards aside, it's a great bluesy rock song with a Bo Diddly style beat.

Another original is "Love Rescue Me", co-written and performed with Bob Dylan. Dylan's vocals were originally supposed to be prominent in the song, but were removed on his request, citing other commitments. It's still a great, folksy song.

B.B. King also guested, lending his vocals to great effect on "When Love Comes To Town", a great blues tune. This is definitely a highlight in an already stacked album, by they saved the best for last, as "All I Want Is You" closes the album. This is a classic U2 ballad, and a great way to close out the album.

Fans of their earlier material/hits are also served here, though, as several live performances are included. A church choir joins the group on "I Still Haven't Found What I'm Looking For". They give a great performance of "Pride (In the Name of Love)", and Bono seems to rip everyone a new one in a scathing performance of "Bullet the Blue Sky".

There is more to the album, if you've never heard the whole thing, this is the perfect time to discover it. Essential for true fans, a perfect jumping on point for new fans, and really a great album for music fans in general.