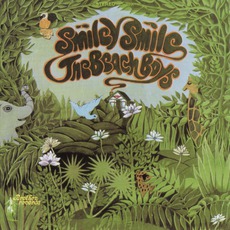 Tracks
People who bought this release also bought
Smiley Smile, from a musical history standpoint, is a fascinating piece. In 1966, the Beach Boys released the single "Good Vibrations", a hugely successful song that was a bit of a departure for the group. The arrangements were complicated, orchestral in nature. The classic Beach Boys harmonies were put to the test, to the point where writer/creative leader Brian Wilson felt they needed outside help. This all resulted in one of the great rock songs of all time, but also caused stress within the band, and to Wilson himself.

The next step was to be an album that would be an extension of the song, recorded in the same fashion, using complex arrangements, using an orchestra; centered around central themes. But on top of the other issues, the group also had issues with their record label. During this time, Wilson began writing songs for inclusion on an album called "Smile", originally intending it to be this one. Further problems arose, technical problems, tensions in the band, legal issues, contractual obligations...by the time everything began to get worked out, Wilson insisted the songs he was writing for this to be off-limits. He felt the musical landscape wasn't right for the material, that it wouldn't be received properly. So other material was used, written and largely produced by Wilson in his own home studio.

The intention was for it to be something of a precursor to the actual Smile album. This was a stylistic preview of the album that was to come...the album that would take decades to actually be released...and wound up being a strange, sort of avant-garde piece, almost pre-psychedelia. It was their worst selling album to date at the time, and produced only one single, "Heroes and Villains" ("Good Vibrations" having already been released a year earlier).

A brief review cannot do justice to the history of this album, or what was to come after, but is somewhat necessary in giving a fair review to the album. Brian Wilson's creative demons, his stage fright, his anxiety, all began to come to a head at this time. Wilson was right in thinking the world was not ready for the songs included in Smile, and they weren't even ready for the songs here. "Heroes and Villains" is a uniquely written song, using Beach Boys harmonies with distinctly un-Beach Boys themes. The time was not good to this album, as most did not know what to make of it. With a bit of distance, less then ten years later, it was considered one of the all-time great albums.

Great is a bit of a stretch from the perspective of the average listener. "Good Vibrations" IS a great song; "Heroes and Villains" is a good song. The rest is fascinating from a creative standpoint; I don't find myself going back to it often, if ever. "Vegetables" is amusingly odd; "With Me Tonight" is a nice song, "Fall Breaks and Back to Winter" is a good instrumental piece, and "Wind Chimes" is the best example of the group sharing vocal duties throughout.

From a historical standpoint, this is a great album. It's an excellent creative work, with some interesting instrumental work, harmonies, and some unique lyrics, decidedly different from the other work they had done. From a casual listener standpoint, this is not a great album. Little here is anything most people would include in their playlists. So consider this when thinking about getting it. There are many other Beach Boys albums that are easier to listen to, and warrant repeat listens; but this is also a unique piece that doesn't center around surfing, so perhaps it might be more up your alley.