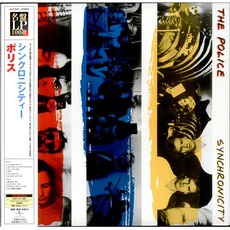 Synchronicity (Japanese Edition)
Tracks
2.
Walking in Your Footsteps
3:37
7.
Every Breath You Take
4:14
9.
Wrapped Around Your Finger
5:14
People who bought this release also bought
Synchronicity is by far one of the best Pop Rock albums, ever. There isn't a filler track on the album, and many of the songs on this release are legendary. Every Breath You Take, King Of Pain, Wrapped Around Your Fingers, Synchronicity II are still played regularly on classic rock stations to this day. If you don't own this album, you absolutely must buy it.