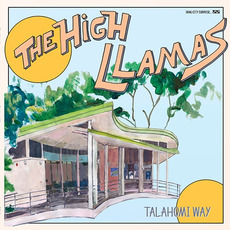 Tracks
People who bought this release also bought
With this ninth studio album, Sean O'Hagan's High Llamas continue to dilate the boundaries of popular music with their signature avante-garde style.

Talahomi way is another blend of subversive sounds deliberately arranged to both challenge established natural progressions whilst simultaneously appealing to the ear with it's gentle melodies.

This album evokes a peaceful tranquility in the listener from start to finish by experimentally fusing various styles to create something truly unique.

There are a variety of influences at work here, from Brazilian jazz & Bossa Nova, 1960s film scores, psychedelia, pre-1950s American folk, to some 1990s electronic. The resulting fusion is quite remarkable.

Tracks like 'Woven and Rolled,' 'The Ring of Gold' and 'To the Abbey' are delightful examples of the High Llamas at their finest. Such pieces demonstrate O'Hagan's gift for composing songs which are unique in terms of their unconventional chord progressions and delivery, whilst maintaining an undeniable retrophilia.

Talohomi Way is a work of outstanding artistry, worthy of a vinyl pressing and a good few rotations on a lazy afternoon.