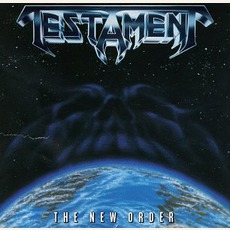 Tracks
People who bought this release also bought
Testament was the one of the original bands of the '80s thrash/speed metal movement centered in California's Bay Area. Originally known as Legacy, they released their first album, 'The Legacy', in 1987. Fast and furious while featuring beautifully complex guitar work, the album signaled Testament's rise to prominence in the underground extreme metal scene. This rise continued on their follow-up release, 1988's 'The New Order', probably their best album to date.

"Eerie Inhabitants" begins gently before erupting into a brutal stuttered riff. The title track is one of the album's best, featuring singer Chuck Billy's full range: gritty mid-range vocals, piercing falsetto cry, and pseudo-death metal growls. "Trial by Fire" was released as a single and contains an excellent, almost bouncy bass line. "Into the Pit" is shorter, but it is perhaps the fastest song on the album. A full-on thrash assault, the chorus is filled with typical "gang-shout" vocals common to thrash metal. "Hypnosis" is one of the album's two instrumentals. A shorter, creepy piece, it is similar to many of the partly acoustic interludes on the album. "Disciples of the Watch" is another concert staple and one of the album's most brutal. The lyrics seem to be based off of Stephen King's "Children of the Corn"; Alex Skolnick unleashes one of his best guitar solos ever in this song, as well. "The Preacher" was another single release although it is no more accessible than the bulk of the other songs present here. "Nobody's Fault" is actually an Aerosmith cover. It is fantastic at that, keeping the spirit of the original while updating its sound to fit the heaviness of '80s thrash. "A Day of Reckoning" is a bit more generic than the rest of the tracks. Closing instrumental "Musical Death (A Dirge)" features some flashy guitar work from Alex Skolnick, at one point even switching to classical guitar.

Testament may not have had too many tricks at their disposal at this point (i.e. some of the lyrics and certain musical themes seem repetitive), but they more than make up for it on 'The New Order' with one of their strongest batches of songs. Like many bands of the genre, they would end up sacrificing song quality for musical diversity on later albums. Sometimes unfairly overlooked in the wake of more popular bands from the scene like Metallica and Slayer, Testament earned their place in metal history by crafting great albums like this one. 'The New Order' is a highly recommended offering from one of Bay Area thrash metal's originators.