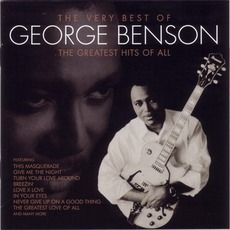 The Very Best Of George Benson: The Greatest Hits Of All
by George Benson
Tracks
People who bought this release also bought
George Benson is the best jazz artist bar none! This truly the Greatest Hits of All!! his song "Breezin" was also the title of one of his album and it went triple platinum. The other songs "Give Me the Night" and "Turn Your Love Around", were also on the pop charts in the early eighties and was played on the pop radio stations as well as smooth jazz and soft rock stations.

He is a true singer songwriter. He truly is deserving of his star on the Hollywood Walk of Fame. He has performed with other great musicians such as Aretha Franklin, Al Jarreau, and Stevie Wonder, just to name a few.

My faves on this album, well, it most of the album. "This Masquerade", Lady Love me (One More TIme), "Breezin'", and more. This is a must have for any eclectic music lover.