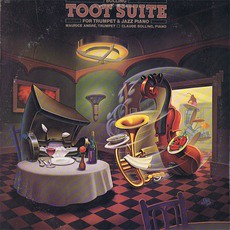 Tracks
People who bought this release also bought
A blend of Baroque and Jazz elements makes this quite the interesting and unique collection of music.

Each piece features the trumpet and piano parts doing a seamless back-and-forth switch between melody and harmony throughout the song. While this may sound like it would be distracting or would make it dull after a while, each of the pieces is unique enough to make it interesting. In addition to this, each piece starts off sounding like a traditional Baroque style song, but progressively adds jazz style elements that transforms the song into a fascinating blend of the two styles.

Allegre starts as a simple song that seems to feature the trumpet, but changes into a excited and upbeat song that kicks off the album. Mystique opens as a somber trumpet solo but suddenly becomes a rich blend of sound from the full quartet. Rag-Polka is a quirky tune full of lovely flourishes from both the piano and trumpet throughout the piece. Marche begins as a proper sounding trumpet feature that shifts into an upbeat Gershwin feel. Vesperale begins as a flowing and tense piano solo that becomes a beautiful piano lounge style piece. Spirituelle finishes the collection of music with clear high notes from both piano and trumpet with a fast pace that drives the album home.

If you enjoy Baroque, jazz, both, or are maybe just looking for something interesting to spend your time listening to, I would highly recommend this album.