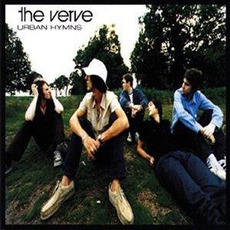 Tracks
People who bought this release also bought
Another critically acclaimed belter from the Britpop era of the 1990s; Urban Hymns kicks off with the infamous "Bitter Sweet Symphony" and although the Verve were never able to claim full ownership of this sampled orchestral version of a Rolling Stones track, Richard Ashcroft's hard hitting, no nonsense lyrics fit the melody to perfection.

The album displays a deeper, more emotional demeanor through tracks like "Sonnet," "Space & Time," "One Day" and "The Drugs Don't Work." The latter of which successfully reached number one in the UK charts, but was originally penned by Ashcroft two years prior to recording as an expression of his own battle with drugs. Perhaps it's the sombre lyrics against the backdrop of a beautiful melody; but there is something undeniably uplifting about the track.

"Lucky Man" sees the return of a simple chord progression played on an acoustic guitar backed by a subtle, yet charming arrangement of strings. Add to the mix some positive, affirming lyrics and it's easy to see why this little gem was well received and made the top ten.

The album reaches a dramatic climax with the adrenalin fuelled "Come On;" -Be sure to crank the speakers up to eleven for that one.

A truly magnificent album, Five stars.
I originally learned about the album 'Urban Hymns' from listening to the song 'Bitter Sweet Symphony' that song has to be The Verve's greatest song of all time! That song is absolutely beautiful and I play it on repeat all the time! The rest of the album is fantastic as well. It kind of reminds me of Coldplay in a way, but it's still its own kind of music. If you like alternative or you're just looking for a different sound...or anything even, you should listen to this album.
Like most people, I had only heard the famous "Bitter Sweet Symphony" by "The Verve". That song alone makes this album. It makes my hairs stand every time I hear it. However the rest of the album is quite good. If you are into alternative rock, space rock, shoegazing or psychedelic sounding music it is definitely worth a shot.