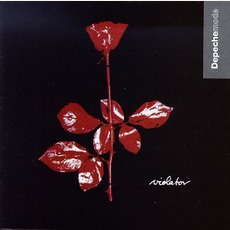 Tracks
People who bought this release also bought
Depeche Mode's first album of the '90s is almost always considered to be their best. By combining the gothic edginess of 'Black Celebration' with the bombast of 'Music for the Masses' (and by shedding some of the more dated sounds of albums prior), 'Violator' winds up being their definitive album, too. Hits abound, as well, for "Personal Jesus" and "Enjoy the Silence" are the two most popular Depeche Mode songs and are often on the radio to this day, while "Policy of Truth" and "World in My Eyes" were also released as singles.

'Violator' begins with "World in My Eyes", a more propulsive track than the others but one of the best. "Sweetest Perfection" is the first of two songs with lead vocals by Martin Gore rather than David Gahan. First time listeners may not notice a difference between the two singers at first, but it becomes clear that Gore has a higher, less dominant singing range that compliments Gahan's baritone excellently. "Personal Jesus" vies with "Enjoy the Silence" for Depeche Mode's best known song, and it recalls the arena-ready sounds of their last album in addition to being slightly bluesy. "Halo" is a more gothic-sounding affair, but it is an extremely catchy one at that. "Waiting for the Night" is a tranquil yet eerie song that sounds rather ahead of its time today. Up next is the aforementioned "Enjoy the Silence", a dance ballad with dark undertones. It segues into an interlude called "Crucified". "Policy of Truth" follows and is another one of the band's best known songs. "Blue Dress" is a more relaxed song sung by Gore. Another interlude bleeds into album-closer "Clean", which starts out sparsely but becomes more fleshed out as it progresses before ending quietly.

'Violator' distinguishes itself from other alternative dance albums because it perfectly blends the ideas and sounds of electropop from the '80s and '90s, taking Depeche Mode (and perhaps the genre as a whole) into the next decade with style. Following albums would be a bit more rock-oriented, for popular music was on the cusp of massive change with the advent of grunge. Still, you can't really blame the band for changing, as topping this album would be a nearly impossible task for them or their peers. Necessary listening for alternative dance fans.