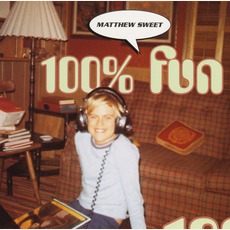 Tracks
People who bought this release also bought
This is a great, fun album, as advertised. Matthew Sweet is an alt rock singer/guitarist, perhaps best known for Girlfriend, but he had several albums, and this is one of the best. Sweet wrote and composed every song on the album, in addition to singing lead vocals and playing lead guitar. The album name actually came from a line in Curt Kobain's suicide note. Perhaps taking it back, this is overall a very light album, filled with catchy guitar riffs.

The lead single was "Sick of Myself", which reached number two on the modern rock charts. This sets the tone for the whole album, an unashamedly positive song with a creative composition, and even a couple of false endings. The song has been used in a few movies and TV shows, and has even been covered a couple of times. The same vibe continues in "We're the same. In the face of the grunge movement, this was not a pop record, but an alternative record, and it was positive and fun, strange to think that this was so unique, but at the time it really was.

He gets a little deeper with "Smog Moon" and "Everything Changes", which also found it's way into a film. Sweet is a far better lyricist than he gets credit for; these songs could be trite in other hands, but Sweet handled them masterfully. "Giving it Back to You" is one of those songs that works for Sweet where it wouldn't for others. Most artists of this era would play it ironically, but Sweet is so sincere that you just can't help but go with it.

More people own Girlfriend than 100% Fun, but I think this is the better album. It works better as a single piece, there is such a perfect flow from one song to the next. It's a real feel good, sing-while-you-drive kind of album. Definitely worth getting the whole album, especially if you've liked anything he's put out prior to this.