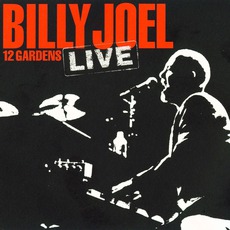 Tracks
People who bought this release also bought
Billy Joel scheduled a series of concerts at Madison Square Garden in 2006, and each show would quickly sell out. So more and more were added, until it reached 12 consecutive sold out shows. The shows received great reviews, and were compiled into this double live album, with the best performances making the album. It reads like a greatest hits album; Joel had so many hits that it was inevitable for a song or two to be left off, but it's a great selection.

Right up front, I have to say that he sounds fantastic on the album. Each song is performed very closely to the original release; the only difference really is the addition of the live energy from Joel and the audience, which elevates each song. However, may balk at this set, as work was done to many of the songs to accommodate the change in Joel's voice. With age, of course, Joel's voice deepened, so many of the songs were altered in terms of key to allow for this. If you can get past this fact and just take the performances as given, there is no way you can find fault with any of this. If you like Billy Joel in the least, this is a fantastic set to have.

Though there are thirty-two songs here, there will always be one or two left off. In this case, the mid-80's hits "Uptown Girl" and "For the Longest Time" missed the cut. While these were two of my favorites, it's just impossible to get everything on here, and there are so many great songs, you can't miss them too much.

Interestingly, this is the first time a live performance of Joel's signature song, "Piano Man", made an official release; it's been a long time coming, but it was worth it, as he delivers a great rendition of the song.

I don't want to sound repetitive by pointing out how great everything sounds, but there really is not a single bad song in the set. Some true highlights include the opener, "Angry Young Man", "The Entertainer", "Movin' Out (Anthony's Song)", "We Didn't Start the Fire" and "Scenes From an Italian Restaurant". Try these out, if you don't like them, you won't like the album. The arrangements of the songs are largely pretty much identical to the original versions. So those who can't help singing along will have no problem keeping time.

The only possible complaint, aside from one or two missing tracks, is that this is not a concert performance, it's a compilations. One of the best parts of many live albums is the banter between songs, and the energy from the crowd. While you get a little of both, there is not the flow of a non-stop recording; the crowd is always energetic, but it's not always the same energy. You get a little banter from Joel (a band intro, a final word of advice to New Yorkers), but not what a single performance would give you. It's tough to be too upset about this when what you are getting is so great. So try the recommended tracks, or a few of your favorites. They will be a good indication of what to expect in the rest of the album, and I just can't see any Billy Joel fan no enjoying it.