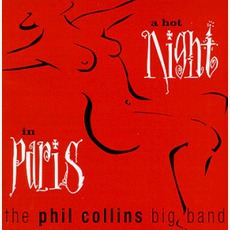 Tracks
People who bought this release also bought
An interesting project for Phil Collins. Collins was, of course, in progressive rock band Genesis for much of his career, but many aren't aware that he also spent time with the Jazz band Brand X. This is closer to what this album is, despite the songs coming from Genesis and his solo pop/rock albums.

The idea is to see what Collins' material would sound like if played in big band style. The results are about what you would expect. This is basically a muzak version of these songs. If you are a jazz fan, there is probably something for you here...the problem is that you can't help but recall the original versions. In particular, I find myself wanting to hear the lyrics, but this is mostly instrumental. Collins spends most of his time behind the drums on this album, which hearkens back to his original days as the drummer of Genesis, and Brand X as well. A lot of this feels sort of 'lite'...the arrangements are closer to elevator than the old time dance hall feel he was looking for. This is no reflection of the musicians, they are excellent. You will never say the band members aren't absolute masters of their crafts. It's really an issue of the source material being too defined already.

New songs fare a little better. "Chips and Salsa" is the best of them, a fun and bouncy tune that nails the mood Collins wants well. "Pick Up The Pieces" and "Milestones" are fine, if unmemorable. The finish is the "Los Endos Suite", a jazzy version of the classic Genesis instrumental. This is the one track that really lends itself to the big band treatment, the arrangement lets the instrumental take the original to new places, with a livelier tone.

This is really for true jazz fans. Genesis fans looking for further exploration of their music would be better served by former Genesis guitarist Steve Hackett's recent albums. Fans of Collins solo work will probably listen to this, then get the urge to go back to the original songs. This album is ok, but is not likely to be something you go back to very often. You might be better off with a tribute band, this won't satisfy that itch for the music to be taken further.