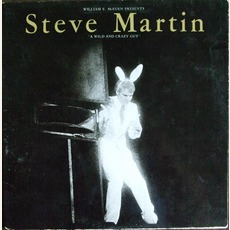 Tracks
People who bought this release also bought
All art is, of course, subjective, and comedy especially so. Even more difficult is comedy from another generation. References can be lost to time, styles change, jokes overdone. So it's impressive that even though "A Wild And Crazy Guy" is nearing 40 years old, it still hooks up.

Steve Martin has never been a "Let's see what's in the news today" kind of comic, he's more of a guy who turns the ordinary into the patently absurd. Case in point, and I don't even need to go into the bit, "Cat Handcuffs". Expect more of this from Martin, who insists that his actual name is "Gern Blanston".

Maybe the one dated bit here is "King Tut". At the time, there was a traveling display of the treasures of King Tut's tomb that was very popular. Martin took the absurdity of this and turned it into a song, which did very well for him at the time, complete with video of Martin dressed as Tut. Today's listener may not understand what he's talking about, but this is about the only piece that is out of place. This album is always in my playlist. If you are a fan of Martin, or of standup, it is definitely worth a try.