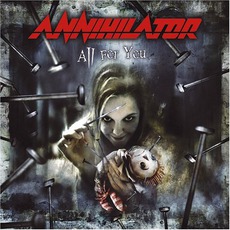 Tracks
People who bought this release also bought
All for You is one of my favourite Annihilator albums.

In fact I still remember buying it from a local, independent CD store – long gone, now sadly as are CDs! For me, this album shows Annihilator at their best, with their most professional line-up and incidentally the one I saw perform live. Long-term fans know Waters' obsession with schizophrenia as a music topic and this motif is a wonderful metaphor for this duality of light and dark, masterfully commanding visceral thrash with subtle, undulating melody which arrives unexpectedly and is often almost shocking in it is beauty. The song which showcases this and sets the canon for the album is Both of Me, a hauntingly fragile melody which gives way to Mike Mangini's double-bass rapid fire and Waters' sonic artillery.

This is very much what the rest of the album is like. Modern, well- produced thrash metal, where Water leads the charge, having written all songs, recorded all guitars, bass included and even sings on some of the tracks. That is nothing new for the Canadian one-man thrash machine, but All for You is fresh and exciting. It doesn't have the occasional recycled riffs and musical motifs which usually pop-up in Annihilator songs, like the epic intro from Alice in Hell and the Fun Palace.

The All for You title track carries a sense of veiled threat and hidden menace which is the kind of theme running throughout the album. Dr. Psycho and the dread of illegal medical procedures sounds like the musical rendition of a film from the SAW franchise, while The Nightmare Factory and The Sound of Horror will not sound out of place on any of the movies' soundtrack. Dark, moody, heavy – those ditties have it all but make no mistake, this is not some mediocre riffing for riffing's sake. Waters' sense of dynamics shines through clearly, and the quiet, clean, instrumental passages serve as the backdrop to 100mph shred and instrumental mastery throughout.

We know that Waters is no stranger to 'the ballad' and All for You is not a one-speed vehicle. The One and Holding On are glorious examples of how versatile the thrash metal genre really is and should serve as a blueprint for any band out there wondering how to create melody without appearing soft. The quality of balladry on the album, for me, is on a par with heavyweights like Testament or Death Angel and reminds of glorious tracks like Phoenix Rising and In the Blood.
Elsewhere speed and sheer power is the name of the game. Just listen to the frenetic, drill-like picking on Bled, Rage Absolute and the chromatic mastery of Dream Theater-esque numbers like Demon Dance which are all the more impressive when you remember that Waters plays all guitars, including the nifty bass-fills which are both groovy and seismically heavy.

Yes, I do like this album. The band lost their way a little after it and the follower, Schizo Deluxe is a mixed-bag affair. Vocalist Dave Padden's departure eventually would eventually see Jeff Water take over vocal duties (again) in 2015 but here, in All for You the band is firing on all cylinders.