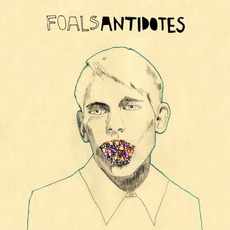 Tracks
People who bought this release also bought
British indie rock music leans heavily on great guitar riffs as well as atmospheric vocals. Progressive rock band Foals' 2008 album, "Antidotes", is filled to the brim with great riffs, but the vocals feels sort of disjointed.

When one goes to watch Foals live, they have a great energy that really gets the crowd going. This energy and enthousiasm can be found on "Antidotes" as well, with songs that are all over the place, but in the good kind of way that gets you jumping. Best described as Bloc Party's little brother, there are flashes of real brilliance here, but the album mostly stays pretty level. It seems that Foals still needed to grow quite a bit at the time.

The songs flow from beginning to end in a rather mellow way, and therein probably lies Foals' greatest strength: they can really tie together percussion with excellent bass guitar riffs. However, it often feels as though the tracks are leading up to some climax which is not present at all. As such, the album had me thinking there was a lot of wasted potential.

If you are into the likes of Bloc Party, Foals will seem like coming home, albeit a home that is slightly less cozy than you remember. There is quite a bit of growth potential in "Antidotes", but what is already there is quite good, and worthy of purchase.