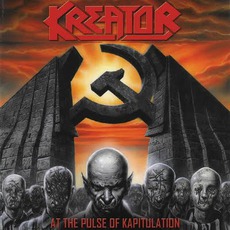 At The Pulse Of Kapitulation: Live In East Berlin 1990
by Kreator
Tracks
People who bought this release also bought
In March 1990, Kreator joined forces with Coroner, Tankard, and Sabbat to play probably the first major metal concert in East Berlin. Kreator's performance was originally released on VHS under the title 'Live in East Berlin', but it was remastered and re-released on a DVD/CD combo pack in 2008 as 'At the Pulse of Kapitulation: Live in East Berlin 1990'. Obviously, this review only concerns the CD portion of the package, for that is all that is available for download here.

Being recorded on the tour for 'Extreme Aggression', Kreator were certainly in their prime here. Many speed metal bands did not release live documents during their classic period, or if they did, they were usually not on par with the studio recordings. However, Kreator deliver an extremely tight live performance with certain songs arguably surpassing their studio counterparts. Interesting to note is that former Sodom guitarist Frank Blackfire is present here rather than Jörg Tritze who had left the band prior to this album. Blackfire brings some more melodic aspects to the original guitar solos, improving some of them. Mille Petrozza also adds a few interesting harmonies into certain riffs, but his vocals really stick out in a good way here, as he is able to keep up with the intensity level of the studio albums. The only real problem with the band's performance is that some of the older songs are shortened and/or slowed down for no apparent reason, but it's not that big of a deal in the grand scheme of things. Otherwise, most of Mille's banter is in German, and it's hard to really hear the crowd most of the time, but again, these are miniscule issues.

The track list for the album is arguably perfect. Sure, there may not be that many rarities, as Kreator still perform many of these songs live, but it makes for a "best of" sort of listen, as many live albums do and, to a degree, should. There are no unworthy tracks, but the highlight among highlights is "Tormentor". The rendition here easily surpasses the fury of the rather primitive studio version and stands as the most electrifying song in the set, making it clear why the band still close their concerts with it.

It's surprising that this wasn't released as a live album back in the day considering the quality of the performance. Had it been, it would undoubtedly stand as one of the genre's best live albums. Then again, it probably will regardless. 'At the Pulse of Kapitualtion: Live in East Berlin 1990' is highly recommended to Kreator fans and perhaps even as an introduction to the band.