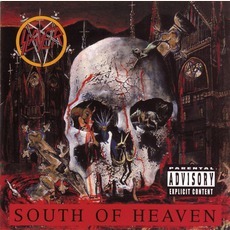 South Of Heaven (Remastered)
by Slayer
Tracks
People who bought this release also bought
Slayer knew exactly where they stood in 1988. Having released Reign in Blood, considered by many to be thrash metal's high water mark, not even two years prior, they knew that there was no way that they could top it. Smartly, they opted for a total overhaul of their sound (well, almost). Slowing things down considerably and bringing back Tom Araya's slightly more melodic vocals from their debut led South of Heaven to sound a bit more accessible yet still undeniably Slayer. Jeff Hanneman and Kerry King's blinding, atonal harmonies are mostly allowed to groove here, giving them more context and proving that they were not just noisy for noise's sake. Dave Lombardo, too, shows off a more diverse skill set than ever before instead of solely insane fills and relentless double bass.

"South of Heaven" kicks off the album with one of the band's eeriest riffs. After a doomy start, it kicks into a quintessential mid-paced rocker with an awesomely simple chorus. "Silent Scream" shifts into a high gear and is one of the fastest songs on the album, yet its lyrics are surprisingly political, having to do with abortion. In fact, in spite of the title, most of the songs on South of Heaven stray from the "Slaytanic" stuff of the past. "Mandatory Suicide" and "Ghosts of War" both deal with warfare (Slayer's second favorite lyrical topic), the latter even using the coda of "Chemical Warfare" as its intro. The only real curveball comes in the form of a cover of Judas Priest's "Dissident Aggressor", which the band somehow manages to make no heavier than the original. Even if that's a testament to the song's intensity, the disappointing vocal performance and sterile production (a problem that plagues a lot of this album) really make Slayer's version sound more like a B-side.

Overall, kudos to Slayer for having the moxie to change things up while sticking to their guns. South of Heaven showed many a green thrasher and that if Slayer (of all bands) could slow things down and still work, any band could add a little more variety into their sound, too. An important album in the realm of thrash and an indispensable item for Slayer fans.