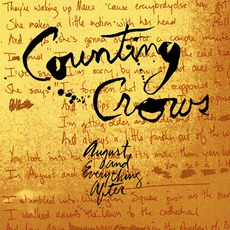 Tracks
People who bought this release also bought
Counting Crows is one of those bands that just ooze musicality, and August and Everything After is probably the group's best work.

The songs themselves always consist of a fantastic blend between subtle percussion, acoustic and electric guitars and lead singer Adam Duritz's genuinely tremendous voice. As such, the melody usually swells through the vocals as opposed to through big guitar riffs and what have you. It makes the tracks sound vulnerable and emotional, and it just works. Duritz's depression is also a theme that frequently rears its head whilst listening to the album, but the music has more of a consoling effect than a perpetuating one.

"Round Here", "Rain King", "Omaha", "Ghost Train" and above all "Mr. Jones" are the album's most recognizable tracks, some of which you surely will already know. "August And Everything After" is the quintessential Counting Crows album to own simply because it features the most songs out of all of them that are almost universally considered great. On top of that, the other tracks are very good as well. Just buy it. You won't regret it. Some of the most honest, genuinely great music out there.