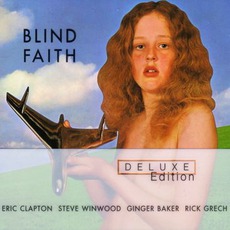 Tracks
People who bought this release also bought
Both Eric Clapton and Steve Winwood seemed to surf around the sixties/early seventies wandering from group to group, leaving a swath of great music in their path before moving on. In the wake of the legendary band Cream, Clapton and drummer Ginger Baker teamed with former Traffic singer Winwood to form what many call the first rock "supergroup" in Blind Faith. Along with bassist Ric Grech, the band would record only one album before Clapton decided he was disappointed with the quality of music they were producing.

But Clapton was about the only one who felt that way. The album went to number one on the Billboard 200, and in several other countries. The album cover was quite controversial, as it featured a nude prepubescent girl. This piece of art has been commissioned by the band; the artist named the piece "Blind Faith", which the band would take as their name. Alternate covers were produced featuring pictures of the band, but the controversy of course stirred an interest in the band.

Two hit singles came from this album. The first was The gorgeous Steve Winwood-penned song "Can't Find My Way Home". Winwood's vocals are haunting here, Clapton's soft guitar fingering is beautiful, and Baker creates an inventive percussion arrangement, and it all comes together perfectly for a truly amazing song.

The other hit single is Clapton's "Presence of the Lord", an almost Gospel-style song that uses guitars to create a sound that's close to an organ before bringing in a rock guitar solo halfway through. It's rare to find such an over religious message in a rock song, and that's a big part of what makes the song so uniquely great.

The album was reportedly thrown together fairly quickly; as a result, there are only six songs, one of them a fifteen minute jam that takes up most of side two on the original record. This is reflected in the special edition material, which is another four jam tracks. They are great blues-rock jams, if not entirely memorable. Performed live, these would be awesome pieces, but as part of an album they feel more like collector's pieces than anything.

That kind of sums up the package here. This IS a collector's piece. If you are a true music fan, this is a piece that you need to have in your collection. Looking beyond the historical aspect, there are two phenomenal songs that deserve regular plays on the playlist of any fan of Clapton, Winwood, classic rock, blues, or straight up guitar rock. The jams earn little more than a spot in your display case, but the album deserves some of your attention.