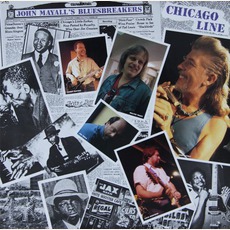 Tracks
Also by John Mayall & The Bluesbreakers
People who bought this release also bought
This is something of a hidden gem. "Chicago Line" is a fun, accessible blues album from legendary bluesman John Mayall and his Bluesbreakers. It's a great jumping on point for those just starting a journey into the blues. The path will lead you to heavier stuff, but this is a bit of a crossover, with pop/rock rhythms and productions.

Mayall has worked with countless great musicians over the years, and has a great eye for talent, so you know anyone deemed worthy of being in the Bluesbreakers is among the best in the world. Mayall makes great use of electric harmonica throughout this album, and his backing band is flawless. This is a very clean blues, if you are looking for something down and dirty, this is not for you; every note, every jam is played to perfection.

"Chicago Line", the opening song, is a classic up-tempo blues number. "Cold-Blooded Mama" is your obligatory blues song about how cruel your baby is. The album ends strong with a slow tempo "Tears Came Rollin' Down", followed by the song with the most bite, "Life in the Jungle".

This album may be too by the numbers for many, but it's a fun piece, a good entry into the blues. It's from 1987, but doesn't feel the least bit dated; it could be from the 60's or last year, for the most part. Nothing here will blow you away, but by the same token there is not a bad note on the album. Give it a try before diving headfirst into Robert Johnson.