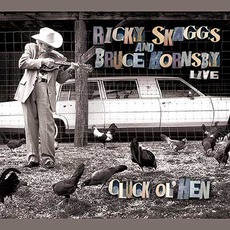 Tracks
People who bought this release also bought
These two musical geniuses together on the same stage is an amazing convergience of styles. Ricky Skaggs is a bluegrass legend, and a master of both the fiddle and the banjo. Hornsby is one of the most talented pianists of his generation; his styles range from rock/pop to country to jazz, to whatever strikes his fancy. Many of his songs are a good fit for bluegrass, and that is what we see on this album.

On their studio album, they had a good mix of Hornsby's songs, some bluegrass standards and one or two of Skaggs' compositions. Here, they go a bit deeper into Skaggs' territory. Which makes sense, as Hornsby is the more versatile, as his piano, and sometimes accordion, become a better fit for bluegrass than Skaggs' fiddle might be for rock music. Depending on which artist brought you to this album, this could be seen as a positive or a negative. Skaggs fans will love this, a live bluegrass album that stretches his material a little, but maintains the core feel of the genre. On the other hand, Hornsby does a bit more stretching from, if not his comfort zone, his frequent pop-slanted releases. Casual fans will be a bit alienated by this particular release.

But hardcore fans of Hornsby will not be the least bit surprised, as he rarely plays any of his songs the same way twice in concert. He frequently takes his songs and applies a different format to it...adding a jam-band-esque solo, giving it a country twang, re-imagining it as a jazz number, and often even giving it a little bit of a bluegrass kick. You can feel the joy he has in exploring a different way of playing his songs here, even moreso than the studio album the two released.

The two key differences between this and the first album are that, of course, this is a live album, while the other was done in the studio. Hornsby always shines live, his sheer joy of making music is infectious, and you honestly never know what note will come next, or how it will be played. This gels well with bluegrass, and with Skaggs himself. The two are a great team; you can feel it in the between song banter. These brief tracks are not really a selling point...there is nothing earth-shattering in them, they often feel like in-jokes that you're not a part of. Unlike many Hornsby live performances, they are less a part of the music, more skippable patter.

The other difference is song selection. While there are some songs that returning from the prior album, others did not make the cut, and I question their exclusion. I can understand not doing "Superfreak", which was essentially comic relief on the other album. But "Crown of Jewels" was the real star of the set. "Mandolin Rain", a more popular tune, likely brought a lot of the more casual fans to the table, and turned out to be a perfect fit for the style. "A Night on the Town" was not my favorite from the last set, but would have benefited greatly from the live treatment.

Instead, we get "White Wheeled Limousine", a good song, but not on the level of the ones that were excluded. On the plus side, "The Way It Is" is more than a fair replacement for "Mandolin Rain", as it's his most well-known song, and biggest hit. "Bluegrass Breakdown" is a fun bluegrass tune, and "Darling Corey" was more of a country song to begin with. Hornsby does insist on continuing to put out "The Dreaded Spoon", another song that does well in bluegrass, but one that never did anything for me in the first place.

Overall, this is one for true fans of either artist. I think Skaggs' fans will get a bit more from it than Hornsby's, but there is something for both to be found. Given the choice between this and their first album, the first stands up better to multiple replays...this is more of a curiosity. Take a look at the tracklist, if that draws you in, give it a shot. If you get stuck after "The Way It Is", you might want to skip this one.