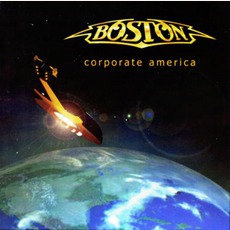 Tracks
People who bought this release also bought
This was Boston's fifth album, released in 2002. Boston has always been notoriously slow to produce new albums, and this time it really hurt them. The band was now nearing it's thirtieth year, and Brad Delp could no longer quite hit those high notes. So the band brought in two new members in Anthony Cosmo and Kimberley Dahme to help with singing and songwriting; both were also guitarists. In fact, the album featured a number of 'guest' vocalists, including Fran Cosmo, Charlie Farren, Beth Cohen and others. This really served to sort of dilute the album; half had Delp on lead vocals, half had Dahme on lead, and these were two completely different voices.

Boston burst onto the scene in 1976 as a hard rocking band, producing the best selling debut album of all time; the failure to follow it up in a timely manner, due to the perfectionism of guitarist Tom Sholz, and the continuing, increasing gaps between albums caused their popularity to wane. Their previous album, Walk On, was an excellent 70's-80's rock album, but since it wasn't released until the mid-90's, it basically went completely under the radar. Music had changed, fans moved on to other things. So the release of Corporate America was met with little fanfare, little interest. Those who did pick it up, out of nostalgia, curiosity, or loyalty, were bound to be confused to hear a woman fronting this manly hard rock band. All credit to the band for trying to be progressive, but it just didn't work. A wholesale change may have been easier to accept, but this just feels disjointed, like a collection of rejected tracks from two different bands slapped together.

Even more confusing is the inclusion of a live performance of "Livin' For You", a track from Walk On. It's a good song, a good performance, but it really feels like filler, again like the album was slapped together and needed one more track. This, and an instrumental track "Crystal Love" are technically bonus tracks, but are included on most editions of the album.
That said, this may be the best track on the album. Of the remaining nine tracks, the last two, "Didn't Mean to Fall In Love" and "You Gave Up On Love" probably come the closest to feeling like a real Boston song. In fairness, the trademark Tom Sholz guitars are in full effect throughout the album, Brad Delp's voice is fine where it's used...there are pieces here, there just is no whole.

It seems strange to say that a band is trying to evolve on only it's fifth album in thirty years, but it seems that is what is happening here. It didn't work, but that's not to say there is nothing to be salvaged. Yes, it is surprising that the perfectionist that is Tom Sholz could produce something like this album...again, technically speaking, the music is on point, it's just not a cohesive unit, not a real Boston album...but maybe this is meant to be more of a work in progress than a finished piece. This isn't great, isn't memorable, but maybe it's a progression towards something new. So my advice would be to skip this and go straight to the next step.