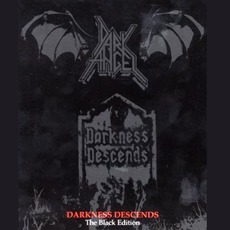 Darkness Descends (The Black Edition)
by Dark Angel
Tracks
People who bought this release also bought
Dark Angel is one of the more overlooked bands in the second tier of Bay Area thrash metal, being no more (if not less) popular than Exodus or Testament. After all, they never really got back on their feet again in the new millennium like many thrash bands both popular and obscure did. In fact, they broke up not long after their fourth album's release in the early '90s. However, during their brief career, Dark Angel released a few albums that are widely considered among the best that the subgenre has to offer among thrash aficionados. After a rather weak, demo-like debut album, Dark Angel completely upped the ante with 'Darkness Descends'. New drummer Gene Hoglan proved to be a major songwriting asset as well as arguably the most skilled drummer within thrash metal, pushing the band to nearly unheard-of levels of intensity.

A dissonant, Slayer-esque intro leads into the crushing title track, lyrically inspired by the Judge Dredd comic. Based on the Biblical tale of Sodom and Gomorrah, "The Burning of Sodom" is perhaps the band's single fastest song (which is saying a lot). "Hunger of the Undead" is slightly more melodic than the prior two songs. "Merciless Death" contains a really cool bass intro and some of Don Doty's highest screams. The song was initially recorded for the band's debut, but this version completely destroys the original on all fronts. "Death Is Certain (Life Is Not)" is one of the album's most pummeling songs; the lyrics are possibly the bleakest here, dealing with a brother in a coma. "Black Prophecies" is a slower, eight-minute-plus epic about Nostradamus and the first song to hint at the band's still latent progressive tendencies. The album ends with "Perish in Flames", an all-out musical assault about nuclear holocaust. At just seven songs, 'Darkness Descends' might seem a bit brief, but a longer album might be a bit grating, quite frankly.

This "black edition" of the album is remastered and features eight live bonus tracks with Don Doty's replacement, Ron Rinehart, on vocals. The final three of these eight were originally released on the live album 'Live Scars'. Unfortunately, none of them are very high quality recordings, although die-hard fans may appreciate them. Regardless, the original album is one of the best and most influential underground thrash metal album's of all time. Though the band's next two releases would display greater amounts of technicality and melody, for sheer, unadulterated thrash, 'Darkness Descends' is the one to get.