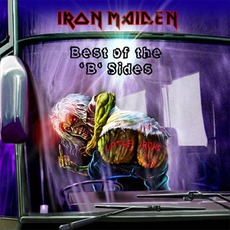 Eddie's Archive: Best Of The B'Sides
Tracks
Disk #1
4.
Remember Tomorrow (live)
5:28
12.
Sheriff of Huddersfield
3:35
15.
Charlotte the Harlot '88
4:13
Disk #2
4.
Communication Breakdown
2:42
5.
Nodding Donkey Blues
3:17
6.
Space Station No. 5
3:47
7.
I Can't See My Feelings
3:50
8.
Roll Over VIc Vella
4:48
9.
Justice of the Peace
3:33
13.
Blood on the World's Hands (live)
6:06
14.
The Aftermath (live)
6:45
16.
Wasted Years '99 (live)
5:07
People who bought this release also bought
Iron Maiden does cover songs? They do on this 2 CD set that is part of Eddie's Archive collection box set. This entire collection of songs is the B sides of all of the Iron Maiden singles that were released up until Blaze Bailey albums. The cover The Who, Zepplin, and many more. These tracks were only available back in the day if you actually bought the singles. It also has some live tracks and some re-recordings of popular Maiden songs. This was nearly impossible to find without spending a ton for the entire box set, but mp3caprice has it and in 320 bit. Check this out if you are a serious Maiden fan like me.