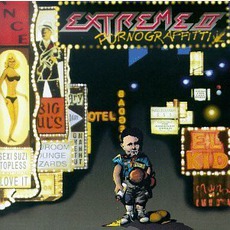 Extreme II: Pornograffitti
by Extreme
Tracks
People who bought this release also bought
Title of review "Too funky for metal"!

The album opens with "Decade of Dance" aka "Decadence Dance". One hears a voice before the guitar begins, saying "who is it?"! The song is sort of the anthem for the entire album as the song is full of energy! "When I'm President" promises no more homework, after school!

"He-Man Woman Hater" (includes intro "Flight of the Wounded Bumblebee") clarifies "no women allowed"! The is actually a tribute to "Little Rascal Club"! It's also a tribute to "men only clubs" and I will leave it at that :)

"Money (in God We Trust)", reminds me so much of a future KISS tune called, "Cadillac Dreams".
"Get the Funk Out" also reminds me of another future KISS tune called, "I just wanna fa-get you"!
I mean both of those in a good way as both KISS and Extreme are tough acts to follow!
Extreme also appeared on a KISS Tribute called, "Kiss My **s"!

"Song for Love" is one of those power ballads that should have been a single. The song doesn't flow well with the album... and should have been included on a "balled rich album". I would say that about ten of the songs "flow together" on the album.
"Hole Hearted" was not originally on the vinyl release but is now included on most released. Again, it's a great love song that does not flow with the other non-balled songs.

"More Than Words"... oddly enough, there is a cover of "Love of My life", originally by Queen, and the ending includes the opening of "More than words". Odd, but not unheard of. Having said that, this is a song that was #1 in 20 different countries at the same time. Most people don't know who Extreme is... but most people know the song "More Than Words"! Amazing guitar work by Nuno and Gary... well, his vocals are simply amazing!

"Pornograffitti", the song, seems to be about all the misinformation about "sex". A fun song to sing but has more serious undertones.
Worthy reading the lyrics.

I think the album should have closed with "Suzi (Wants Her All Day What?)". It's a song about being "confident"... "she/he" doesn't bite! Ah! The masters of subtlety!