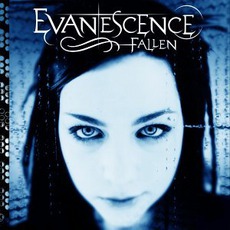 Tracks
People who bought this release also bought
Amy Lee rocks this album in her own gothic way!! Her voice is very angelic as well. "Going Under", "Bring Me to Life", and "My Immortal" caught my ears!! The are some of the best songs Evanescence has to offer. But their other albums are also very good.
I would have to say that this is the best album Evanescence made. All the songs are haunting, creepy and alot of them have a vampire feel to them, listen to "Bring me to life" "My Immortal" "Taking over me" "Haunted" This album really caught my eye and each song is beautifully crafted to perfection with a dark eeery feel to each song. Also the tracks on this album would be perfect on a vampire related film. I pretty much love every song off this album especially "Haunted" Check out this album if you havent already. Its very satisfying. Every song sounds amazing. And a must get.
Wow, I just finished listening to "Fallen" by Evanescence for the first time, previously only familiar with the songs "Immortal" and "Bring Me To Life." It's a pretty heavy listen, brings out my inner goth for sure!! The album is a very satisfying blend of alternative metal/rap rock that kind of reminds me of Linkin Park, sans the screaming; Evanescence's Amy Lee has a breathtakingly beautiful, haunting voice. Warning: most of the songs are rather depressing. "Tourniquet" is an exception with an almost Christian theme, however.

"Fallen" begins with "Going Under," a wonderful example of Evanescence's amalgamation of metal and rap with a beautiful melody, all sung to perfection by Amy. "Bring Me To Life" is another great rap rock track.

"Whisper" was a little bit of a surprise, amping up the gothic atmosphere with a creepy choir-like chanting section. I loved it. "Haunted," though, was amazing but too creepy for me! I don't think I'll listen to that one again.

There are two versions of "My Immortal" on the album - one is piano only, the other is the band version. I prefer the latter. Both versions of the song lack the metal sound of the other tracks and are a crucial part of "Fallen." "My Immortal" is one of my mother's favorite songs, to her the sorrowful lyrics are a perfect fit for her favorite movie "The Phantom of the Opera".

I will definitely be using MP3caprice to add more tracks from "Fallen" to my music collection. Five stars for this Evanescence album.
It's not an understatement to say this is the album that has shaped most of my musical tastes today. It essentially introduced me to the rock/metal scene and it was the perfect album to do so. A brilliant collection of dark metal and classical influences, full of deep feeling and emotion, within some really quality songwriting. With many top singles in the album, you'll find you'll be able to listen to the album many times over. Hope you enjoy the album as much as I did!