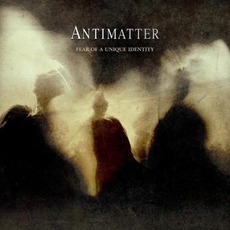 Fear Of A Unique Identity (Deluxe Edition)
by Antimatter
Tracks
People who bought this release also bought
Another big hit by Antimatter!

This album is much heavier than most of its predecessors, but it still leaves room for subtler expressions. Moss has really outdone himself this time, as almost every song on the album has a corresponding remix, or just a stripped-down, low-key version for those who find more inspiration in a calmer sort of darkness. My favorite is track four of disc two, "Firewalking (Remix.)" It makes excellent background music - in fact, I wouldn't be surprised if it made the soundtrack of a really dark, gritty movie some time in the near-future. Other tracks I highly recommend from this album are "Here Come the Men," "A Place in the Sun" and the title track "Fear of a Unique Identity." They explore the concepts of herd-mentality, religious crimes against humanity, and fear of independence (both other people's independence, and the prospect of one's own,) respectively.

A lot of this album reminds me of the movie "All-Quiet on the Western Front," and the book from which it came. It represents through word and sound the disenfranchised head-space of one who has seen first-hand the horrors for which our concepts of "patriotism" and "tradition" are directly responsible. It's that seldom-spoken-of place between the realization of society's politely-ignored truths, and the moment of death itself. Herein, questions are asked which cannot be withstood by the status-quo made for us via government and religion. It is therefore no exaggeration to call this writing some of the most important work in in human history!

Where previously Antimatter's work had held a sense of isolated, defeated frustration with the state of society (like "Legions" from "Planetary Confinement,") this album's very first song ("Paranova") dispenses with defeatism and points a very blunt, direct and determined line of questioning at those responsible; "will this terrible silence be broken with agitated calls to hunt you down? ... When the fever's set, the crowd is hot, the gloves are off, the knives are out and you're on your own..."

When asked about this album in an interview, Moss replied, "It's a concept album that explores the mimics in society [who] would rather blend in with the masses... than stand as a unique entity for fear of being singled-out. This becomes a problem if the masses themselves are actually on the wrong path spiritually and ideologically." That says it pretty nicely, I think.