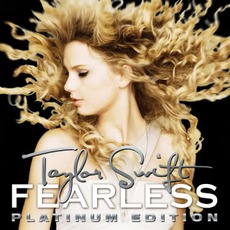 Tracks
People who bought this release also bought
Taylor Swift is a phenomenal country-pop artist, and Fearless is, in my opinion, her best album, which is saying something, considering how fantastic all of her music is. Fearless is worth every penny, each song is original and and had highly relatable lyrics. In Fearless, Swift combines songs with hopeful lyrics and upbeat guitar chords (such as Jump Then Fall) with songs made up of heartbreaking lyrics (such as White Horse). My personal favorite tracks from this album are Jump Then Fall, Hey Stephen, and Love Story. Taylor Swift is one of the best artist's ever, and Fearless is a masterpiece!
This album by Taylor Swift, a part country, part pop singer, amazes us yet again with her original lyrics and catchy tunes. Her songs have a youthful vibe, and sing of young love, heartbreak, and what it was like in her teenage years. I highly reccomend buying her album because with most artists, only one or two songs are great, and the rest are mediocre, but with Swift, every single song is unique and catchy. Way to go, Taylor! :)
The Platinum Edition of Taylor Swift is wildly successful Fearless album. It is supplemented by fully SIX new songs. The album cover has been released by Big Machine Records for the Fearless re-release album. It is titled in fact Fearless Platinum Edition. Grand name, great album!