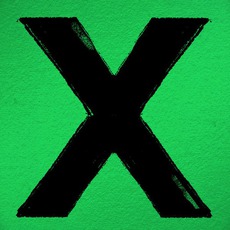 Tracks
People who bought this release also bought
For about a year, I have this album of Ed Sheeran in my possession. At the time of his first album, I really did not find him (and those singles still do not find anything) but 'Sing' provoked my interest, and especially 'I See Fire'.

I think the album is very volatile. There are a number of songs that I did not really like after the first listen and these have also grown without exception over the year ('I'm a Mess', 'Bloodstream', 'Tenerife Sea', 'All of the Stars' ',' Photograph ',' Even My Dad Does Sometimes').

At the same time there are also really good songs, including the singles 'Sing' and 'Do not' (although I think Lucy Pearl's original is a lot better). In addition, especially Runaway, One, Nina and The Man are worth the effort.

'Thinking Out Loud' has been killed in the meantime but crazy enough I can still hear it. 'Afire Love' is (textual) really beautiful. Unfortunately, it is followed by 'Take It Back' ... (on my version then).

So, in my opinion, a rather volatile album, but at least he is on the right side. The R & B vibe usually goes well with him. Next time, if the singer songwriter wished to be songs because I do not personally like that personally.

By the way, I find him to be a very sympathetic person, so I'm incredibly successful with him, but that aside.
In an industry of, in my opinion, bland, lifeless music, I can truly say that Ed Sheeran is a special kind of talent. With each album he shows a side of himself he didn't in the previous albums. With each album he matures and mixes things up, continuing to keep things fresh and relevant. Not to mention, he has a signature sound that is recognizable immediately when his songs play on the radio, in the best way.

This album compared to his other albums seems to be, in my opinion, a step into more adult music lyrically as most artists who become big at a young age tend to do. When I say more adult music, I mean, compared to previous albums, Ed seems to be taking a more explicit approach to his music compared to his songs before that were more kid-friendly. Some of these songs discuss alcohol and sex in a rather obvious way, making some of them not so kid-friendly. Other than that, everything else we know and love about Ed is still there. That signature groove that he has flowing through each of his songs, as well as the cool-sounding instrumentals have really only gotten better with time, especially in songs like "Don't", "Sing", and "Thinking Out Loud".

My favorites on this album are: "Sing", "Don't", "Thinking Out Loud", "Photograph", "Afire Love".

It will be interesting to see where Ed goes from here as an artist, and as a person. I think he will continue to have success, but I also hope he continues to write what he wants to write, not what the industry wants him to. Great album, pick it up!
Ed Sheeran is becoming quite popular and this album is excellent. I love the song "Don't". It's about not playing around with someone's heart. But i have to say that my favorite song from this album is "Thinking Out Loud". This song is for me and my husband, I think the lyrics speak to us and fit us to a "t". I love the line that says "your soul is ever green". That describes how no matter how old your body gets, it's the soul you fall in love with. This lyrics are really sweetly done.

Over the past decade Ed Sheeran has tirelessly crafted a name for himself as one of the most talented young songwriters in the business. The Brit, now aged 23, moved to London at the age of 17 and began playing gigs in local pubs and clubs across the country. In 2009 alone, he performed a staggering 312 gigs. Since then he's released a debut album, been nominated for a grammy and toured the world with his bestie Taylor Swift. Ed's sophomore album 'X'pronounced 'Multiply' (in theme with the previous '+'), is shaping up to be one of the biggest albums of the year. The opening track 'One' is a song about feelings for a love interest with slightly melancholic overtones. Ed's falsetto really shines through on this track and show just how great a singer he is. The second track 'I'm a mess' picks up the pace of the album - a great song with a killer hook that will have you singing along in no time. The majority of the album has an 'acoustic' feel to it and even the up tempo excitable songs like this one are driven purely by the guitar and kick drum, something which gives Ed (who plays gigs without a band live), a rather unique sound amongst many of todays artist who go with very big arrangements in their music. Ed channels his inner Justin Timberlake in 'Sing', another solid and catchy pop tune that has garnered huge success on radio this year. The song has a real funky vibe about it and Ed's rapped verses are a real joy to listen to. I'm not a huge fan of rap music but i find myself rapping along to the songs on this album - a testament to Ed's fantastic song writing ability. 'Don't' is my favorite tune off the album. A slightly peeved off Ed raps and sings about an ex lover who cheated on him. I particularly like Ed's lyrics on this one - they're catchy and clever. Funnily enough the swearing on the album is doctored to sound like he's taking deep breathes instead of spewing f words which i found to be a rather bizarre production choice. There are some really sweet romantic songs on the album like "Photograph" and "Tenerife Sea". Track 7 entitled "Bloodstream" is another favorite - it has a slightly darker twist to it, the lyrics centering around alcoholism and addiction. There's a great moment in this one where the song builds up in intensity with the words "all the voices in my mind calling out across the line" repeated over and over. Overall i think this is a fantastic album and one of the best pop offerings this year - consider buying the Deluxe Edition which contains a crazy rap tune called "Take it up" and "I see fire" which Ed wrote for the Hobbit, the desolation of smaug film. Definitely worth it.