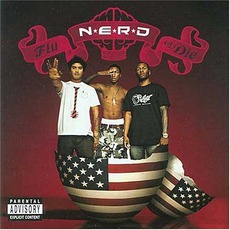 Tracks
People who bought this release also bought
This is album number two from N.E.R.D., or No one ever really dies. This is yet another interesting release that sees the band bring in their own style of hip-hop with all sorts of twists mixed in.

The album opens with the catchy 'Don't worry about it' sounding somewhere between James Brown and Prince. 'Fly or die', 'Jump', and 'Backseat love' continue in a similar fashion. 'Breaking' and 'wonderful place' are laid back and smooth soul tunes. 'Maybe' is the major highlight to the album and sees the band put in a heap of passion while also having a little bit of fun with the sound.

This was a great album from the band. Across the tracks they show some interesting and ranged artists from the Beach Boys to Public Enemy. As a result this is a major stand out rap album!