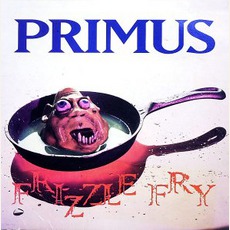 Tracks
People who bought this release also bought
This is probably one of the best albums I have ever heard, and one of the best albums I will ever hear in my life. Frizzle Fry is Primus' debut studio album, and they sure did a damn good job at it. Almost every song in the album is amazingly performed, and they're so effin' aggressive as well.

The lyrics are quite simply written, but it doesn't really matter. They are extremely well-executed, and Les Claypool's cartoonish voice somehow makes it sound even more threatening and serious. Larry "Ler" LaLonde's guitar riffs are downright insane. There's solos and distortion all over the place, while Tim "Herb" Alexander beats on the drums like a maniac. This goes on for the whole album, and it's simply amazing.

"To Defy the Laws of Tradition", "Mr. Knowitall" and "Pudding Time" are some of my favorite songs ever, because they're so aggressive and violent, and the lyrics mock their targets so well they give me chills. Ler's guitar solo in "Tradition" is hardcore sex to my ears, and the intensity of "Pudding Time" is extreme.

The other songs are just as amazing. Some of them were already released in their Suck On This live album, but these studio versions are just as psychedelic and intense as ever. "John the Fisherman" is downright weird-sounding, and "The Toys Go Winding Down" is actually kind of scary at times.

This is considered by many to be Primus' best album, and I perfectly understand why they would say that. You just can't ignore this album if you consider yourself to be open-minded.