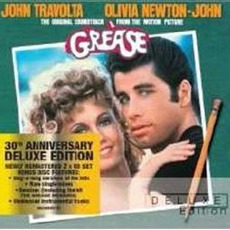 Grease (30th Anniversary Deluxe Edition)
by

Various Artists
Tracks
People who bought this release also bought
This was the first record I ever bought!(Yes, I said record, I actually bought this on vinyl!) I got it after seeing the the movie for the first time as a kid with my dad. During the "mooning" scene, he actually covered my eyes because we weren't expecting that. That movie was rated "R" back in those days. Probably is PG-13 by today's standards.

I love the movie, the musical, and the album!! My favorite songs on here are: "Greased Lightning", "Grease", "Hopelessly Devoted To You", "There Are Worst Things I Could Do", and of course "You're The One That I Want". There are too many to list. "Hopelessly Devoted To You" was the song that got me singing in the choir because my friends said I sounded like Olivia Newton-John.

It's a little known fact that John Travolta auditioned for the Broadway Musical and was refused because they said he couldn't sing. Jeff Conway (who plays Knicky) originally played "Danny" in the musical version.
I have only purchased CD 1 of the Grease CD. That CD has all of the songs in the movie. This including the wonderful "Summer Nights" and "Beauty School Dropout". If you loved the movie, you will absolutely love the CD. The song quality and melodies are top notch.