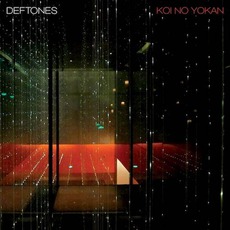 Tracks
People who bought this release also bought
'Koi No Yokan' is Deftones' seventh album, their first since 2010's 'Diamond Eyes'. Since this is their shortest time between albums since the '90s, the album is a bit more similar to 'Diamond Eyes' than one might expect, as Deftones are known for changing up their sound quite a bit with each album. The band basically combines the atmospheric elements of 2006's 'Saturday Night Wrist' with the more straightforward approach of 'Diamond Eyes', resulting in one of their most accessible albums yet. One surprise is that this is the only Deftones album where most of the songs segue into each other, lending itself to the loose conceptuality of the lyrics. The title is actually a Japanese phrase somewhat like "love at first sight" in meaning. Fittingly, the lyrics cover similar ground as those on 2003's eponymous album.

"Swerve City" is the only opening track on a Deftones album thus far to start without any sort of warning or intro and is also one of the band's shortest songs at less than three minutes. It is quite catchy and features a cool bass line from Sergio Vega. "Leathers" was the first track officially released from the album (as a free download on the band's website). An ambient intro gives way into brutal verses derivative of recent post-hardcore, yet the chorus is absolutely soaring. In addition, it is one of the few tracks on this album in which Chino Moreno uses screamed vocals. "Poltergeist" is bar none one of the heaviest songs in the Deftones canon, if the not the heaviest. The more ballad-like "Entombed" features Stephen Carpenter tapping out the entire main melody on guitar, something completely unheard of in the band's music; Frank Delgado adds in some New Wave-esque keyboard lines toward the end. A longer track at six minutes, "Tempest" was the first song to be released as a single from the album, but it actually sounds noticeably better in album context. "Gauze" sports an opening riff that could almost be called bluesy if it wasn't so distorted. Bizarrely, the chorus of this song sounds incredibly similar to that of "976-EVIL" from 'Diamond Eyes'! "Rosemary" is quite possibly the album's highlight. A spacey opening leads into some massive riffing straight out of doom metal. The chorus is densely lush, and the raw breakdown abruptly ends in time for a beautiful coda highly reminiscent of "The Rain Song" by Led Zeppelin. "Goon Squad" is arguably the weakest track on the album; Chino's lyrics are somewhat clichéd and seem to be dedicated to the fans. (Whether or not Deftones will take it to Slipknot's level and start calling their fan-base the "goon squad" remains to be seen.)

By combining the most effective elements of albums past with an ever strengthening sense of musicality, Deftones delivers a focused, shockingly immediate set of songs on 'Koi No Yokan'. Frank Delgado continues to flesh out each piece with soundscapes of samples and synths, and Sergio Vega is becoming more than a "fill-in". In fact, if there's any weak link, it might be Chino. His lack of screaming on the album hurts some of the dynamic interplay, even if the music is a bit more melodic. Furthermore, his lyrics are getting repetitive and self-referential in spots. This may cause fans to worry about the band's future, but these minor issues don't damn an otherwise excellent offering from Deftones, still the most innovative and original band to ever be considered "nu metal".
I'Ve been waiting for this one for awhile and I have to say it's worth the wait. Deftones pretty much keep it the same they are an experimental band. The first time i heard of them was in '97. Some people say they lost it but Ive been a fan ever since and they just keep getting better and better. I am very impressed with Deftones everytime they release an album you never know what kind of different unique style of hardcore experimental they are going to release to the world. Forget that MTV crap sometimes it's not about a silly award, it's mainly about the fans. This album is remarkable and of course hardcore. Guaranteed to please any Deftones fan.