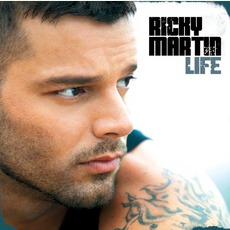 Tracks
People who bought this release also bought
I love the Life album. Ricky Martin is edgier, sexier and has a stronger "street" appeal. It's a mix of influences: Indian music, pop, Spanish ballads, reggaeton, and hip hop. It's a wizened Ricky Martin singing here. He's got an edge, but without the sense of needing to "prove" anything.

My favorite tracks are "I Won't Desert You", the Indian-themed ballad about a man who hurt the one he loves and has been gone traveling, but he misses his beloved and wants to win her back. He promises not to desert her again.

"I Don't Care" was the big pop hit from this album and features Fat Joe and Amerie. It's got a hip hop feel and brings the best of the three artists together. There is an English version and a Spanish version on the album.

My other favorites are "I Am" (featuring Voltio) and "Drop It On Me" (featuring Daddy Yankee), which are part pop and part reggaeton. I also love "This is Good".

The ballads are good: "Til I Get to You", "I Won't Desert You", "Stop Time Tonight", and "Save the Dance". But, my favorites are the up-tempo pop and reggaton tracks.