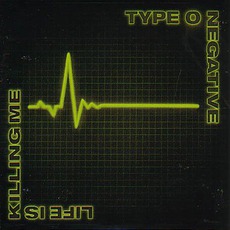 Tracks
People who bought this release also bought
Type-O-Negative were a pioneering Goth Metal outfit over the nineties. This is their first release of the millennium and shows that their music is as strong and powerful as it ever was!

This record is very much in the vein of Type-O-Negative's previous work with their dark atmospheric drone that lulls the listener into a numb state. This time round they have made guitar sound much more dominant giving music a more rocking feel to it.

The album opens with the minute long drowning introduction piece 'thir13teen' this is followed 'I don't want to be me' which is faster paces and more rocking then most of Type – O – Negative's previous efforts. 'Less than zero' sees the band experiment with some Eastern sounds, again with their usual dark soundscape in place, this makes for an interesting mix. 'I like Goils' is a two and a half minute punk rock tune that outclasses most other punk rock bands around. 'How could she' sees some powerful guitar riffs that are somewhat reminiscent of Metallica's early work. '(We were) Electrocute' is a curious almost poppy tune that has some elements of the Beatles in its sound. 'Drunk in Paris" is an interesting minute and a half instrumental driven by a harmonica.

This is yet another fantastic release from Type-O-Negative. If you are a fan of Type-O-Negative's previous work or a fan of Goth-Metal in general then you will probably like this record.