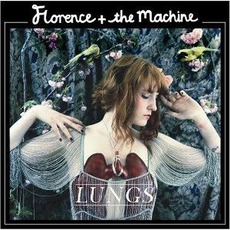 Tracks
Also by Florence + The Machine
People who bought this release also bought
This album is genre-spanning, engaging, and diverse while remaining coherent and of a singular vision. Florence + the Machine is a breath of fresh air in the music industry, with Ms. Welch's siren vocals, pagan rhythms, and folk-rock-soul imbued with a nymph-like elusive complexity. "Howl," "Dog Days Are Over," "Rabbit Heart (Raise It Up)," and "Cosmic Love" are stand-out tracks, but there isn't a misstep in the bunch. Bless your consciousness with this exercise in sonic beauty and experimentation.
A chilling, beautiful and magical masterpiece from Florence and the Machine.

"Lungs", the debut album for Florence and the Machine, is an excellent CD definitely worth having. Florence's melodically and enchanting voice sweeps you off your feet through a variety of exquisite songs. From the slowly growing tunes in "Dog Days Are Over" to the violent "Girl With One Eye" and "Kiss With A Fist", not to mention the mythological "Rabbit Heart [Raise It Up]", the rhythmical "Drumming" and "I'm Not Calling You A Liar" and the captivating "Cosmic Love" and "You've Got The Love", there's enough variety to play over and over again.

Florence is an amazing singer and her music does her voice justice through strong beats, magical harps and occasionally a strong guitar. It is food for the ears and is a quintessential part of anyone's CD collection.
This album is fantastic. The lyrics are complex and take a few times, if not an internet search to dissect them. It has a Portishead/Thievery Corporation feel to it, which I love, but the music is richer and her voice is beautiful.
I love this album. It mixes retro melodies with new, modern beats. Mix this with Florence's beautiful voice and you have as near to perfection as you're going to find. This is truly a great album!