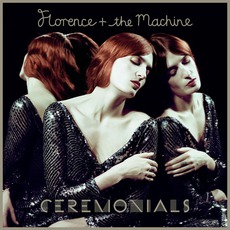 Tracks
Also by Florence + The Machine
People who bought this release also bought
A spectacular follow-up to "Lungs," "Ceremonials" is a diverting dirge from its significantly more upbeat--if tinged with undertones of doleful hints-- predecessor. "Shake It Out" is a rollicking anthem, sparkling opener, and stand-out track, as is the plea-filled "Never Let Me Go" and the restrained, Beatle-esque "Breaking Down." This chapter in the Florence + the Machine discography is darker, more contemplative, and less varied than "Lungs," but just as great and, in moments, even better.
I loved Florence + the Machine and then after she rightfully gained popularity, I initially felt this album was overrated and a pumped up marketing scheme. While it is quite a bit different than "Lungs", I would recommend giving this album a thorough listen. Those songs played on the radio such as "Shake It Out" and "Only if For A Night" tend to underestimate the rest of the album.

All in all, this album is pure power. "No Light, No Light" is by far a favorite. Florence's voice builds and builds and when backed with a full choir it is easy to feel her raw emotion. "Leave My Body" continues with this powerful flow of music between the choir and Florence's extremely beautiful, strong, and dynamic voice.
Florence + The Machine - Ceremonials. I'll admit, I never really got into Florence + The Machine until this album was released. I did not get caught up in the hype of the first record (which I now own and love), but cautiously decided to try her second record, and was really blown away. This collection of songs really feels like one cohesive unit, and whilst some have criticized it for sounding too similar throughout, I can only think that those people gave the album a quick listen and didn't bother to give it a real chance. Each song on here is very unique, and the fact that they all feel like they belong together is a bonus for me, not a negative.

"Only If For A Night" sets the tone as well as you could possibly ask, with a chord progression that while staying consistent, never feels predictable. The lyrics, about a ghost that Miss Welch seems to have met, either in a dream of some kind of fantasy, fit the music perfectly and seem to invite the listener in to share in this wild dream where the supernatural may occur at any time.

And it does, in the stunning ballad "Never Let Me Go". Not too many musicians can take such a simple and oft-used chord progression and make it sound so unique and sublime - this song really does grab you and pull you under the water with it, and you feel as though time stands still whilst under it's curse.

"Breaking Down" is perhaps the only song that feels a little bit out of place on the album, and may have belonged better on "Lungs". But the pounding-drum fury of "No Light, No Light" brings it all back, as it ends with a fantastic lyrical chain chanted over the top of big percussion and layers of synths. It's just beautiful and menacing all at the same time.

"Seven Devils" takes us right out onto the fringes of reality, with notes from both the major and minor scales being played over top of each other. It feels darn creepy, to be honest, which I love. "All This And Heaven Too" feels like Welch summing up the album before releasing "Leave My Body" on us, a dark study in the afterlife that brings us out of the forest of weird trees that the album has created for us just before we lose ourselves entirely. Which is not to say that you didn't do that already.

Overall, this album kicks copious amounts of butt while staying accessible throughout. A highly recommended piece of music.
I was a huge lover of Florence + the Machine's debut "Lungs", I was highly anticipating her first single, however when "What The Water Gave Me" dropped, I can honestly say I hated it, I found it boring and never building anywhere, my confidence in Flo slipped. However, upon hearing her second single "Shake It Out" I was mesmerized by her all over again, the song is uptempo, but Florence + the Machine carries it off effortlessly. Ceremonials, is in short a masterpiece, a good collection of songs for any music lover. Songs like "Never Let Me Go" are just heartrendingly beautiful, and songs like "No Light, No Light" and "Only If For A Night", are stunningly dark and sensual. I brought the deluxe edition because the demo of "Landscape" is brilliant, I wish Flo had made it a proper song on her album, but at least we got the demo.