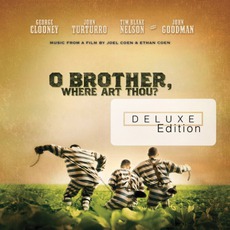 O Brother, Where Art Thou? (Deluxe Edition)
by

Various Artists
Tracks
People who bought this release also bought
This was an excellent soundtrack to an excellent movie. It's a combination of several styles, from blues to jazz to country, all meant to fit into depression era Mississippi. The biggest hit here is the biggest "hit" for the fictional Soggy Bottom Boys in the film, "I Am A Man Of Constant Sorrow". This is not a modern pop song, but it is very catchy, and just uniquely awesome. Several versions are included on the soundtrack, including an instrumental.

Many of the songs on the soundtrack are sort of dirges; songs of death, or of a somber tone, fitting in with a particular part of the film. One such song is the siren's song, "Didn't Leave Nobody But The Baby". This is a beautiful vocal performance by the all-star trio of Emmylou Harris, Alison Krause and Gillian Welch.

On the flip side, "Big Rock Candy Mountain" is here in an official performance by writer Harry McClintock. It was written in the late 1800's, and is meant to be a hi hobo's view of what paradise would be. It has gone on to become something of a folk standard, even recently being used in live performances by Bruce Hornsby.

Soundtrack albums are often hard to get a grasp on, since they tend to be so varied in style. This is certainly varied, but it all seems to fit together extremely well. It seemed as if it were re-introducing the world to a whole new kind of music. The music was such an integral part of the movie, it certainly enhances the music to see the movie, but it's still easy to enjoy without seeing it. The movie is a great one, and is also highly recommended. The soundtrack has sold nearly eight million albums, all without a true modern-day single. It's less a collection of songs, and more a single piece of music. If you are looking for something a little different to try, this is highly recommended, and should be required listening for filmmakers who want to know how to put together a film soundtrack.